The Alberta Project Promoting active Living and healthy Eating (APPLE Schools) is helping to define effective ways to create healthy school communities in Alberta.
The program motivates change and transforms school environments for improved learning and health. The goal of the project is a transformation into a healthy school community.
The Apples for Schools project provide funds to Fort McMurray Catholic Schools to purchase fresh apples they make available daily as a healthy snack for students.
(Please add the name of the school you want your contribution to be directed if you have a preference.)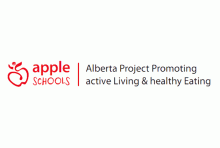 How Donations Work
Click any 'Donate Now' button and then decide your donation amount. You will then be forwarded to your payment processor of choice. Once your donation has been processed it will be sent to your charity of choice.
Need Some Help?