n 1908, the Calgary Horticultural Society was founded to educate newcomers to the region about the challenges of growing and gardening in our climate. 113 years later, the Society is focusing its effort on reconnecting with a more diverse audience in order to support the development of meaningful growing spaces in our community. This initiative will include various strategies, all focused on reducing the barriers to gardening and growing.
In April 2020, the Society pivoted its educational classes to a virtual platform. This new direction has proven extremely successful with many growing opportunities. The Society is focused on educational excellence and is now looking at a 2 year strategy to improve its delivery and expand its audience.
With a recent grant, the Society hired a Program Evaluator to determine the gaps and opportunities with our current educational offering. The goal of this research is to implement specific strategies around audience engagement (which includes targeted approach to a more diverse audience), platform performance, instructor skills and mentorship. We are developing a series of recommendations which will improve our overall educational programs.
Finally, we would like to create some synergy between the Master Gardener course we currently facilitate and our other programs. In addition to offering discounted rates for our virtual and in person educational classes, we would like to create scholarships or bursaries so that newcomers and other underrepresented groups may be able to take our programs. We would mentor our Master Gardeners volunteer to work with some of the diverse audiences and become future educators.
This work is important as we continue to grow and ensure the sustainability and diversity within all our Programs as well as build our relationships with people and organizations in those communities.
The Society has identified several opportunities to work with members of diverse neighborhoods. In 2021, we are working with an experienced community developer to work with identified diverse communities (Chinatown, Centre for Newcomers and the City of Calgary's Northeast Calgary Neighborhood Partnership Coordinators) to support the development and sustainability of Community Gardens in more diverse neighborhoods.
In 2021/2022, we would also work with a Program Designer to ensure we are delivering relevant educational opportunities for both in person and virtual classes targeted at this broader audience. We wish to also offer a reduced rate for targeted populations (removing financial barrier) with the goal of building community capacity.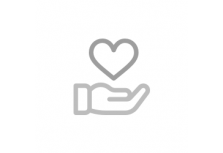 How Donations Work
Click any 'Donate Now' button and then decide your donation amount. You will then be forwarded to your payment processor of choice. Once your donation has been processed it will be sent to your charity of choice.
Need Some Help?