Donations to this cause will be matched 15% to a maximum of CA$999.99
e4c's School Nutrition program has supported Edmonton students since 1974, providing them with a healthy, nutritious lunch during the school day.
We know that students with full bellies are able to focus better, have better attendance, and fewer behaviors in the classroom.
Currently, e4c's School Nutrition program operates in 41 schools throughout Edmonton, with lunch accessible to over 10,000 Edmonton students each day.
For just $2.50 per student per day, a student is able to access the nutritional supports they require to thrive.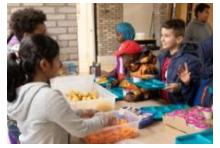 How Donations Work
Click any 'Donate Now' button and then decide your donation amount. You will then be forwarded to your payment processor of choice. Once your donation has been processed it will be sent to your charity of choice.
Need Some Help?