The Beaumont & District Heritage Society is currently working on a project to upgrade the St. Jacques family home in Beaumont – the oldest building still standing – and convert it into an interactive museum. The circa 1912 home sat on a 5.1-acre parcel of land just east of St. Vital Catholic Church. The developer, who owns the property that the home stood on for 107 years, recently donated the house to our Heritage Society.
This project has been several years in the making. Eight years ago the City of Beaumont approved the relocation of the home to Parc Beacon Park, helping the Society to save the home as a heritage resource for the community. Fundraising took place, with the goal of raising $100,000 for the first phase of our project. We were successful in raising $130,000 which included private donations, pledges and a $58,715 CFEP matching grant from the province, allowing us to ensure that we could save the home from demolition.
The new owner/developer did not proceed with developing his own land as expected, so we had to wait for the home to become available to us. On August 1, 2018 we were delighted to finally take possession of the home and on September 7, 2018 we were successful in moving it to its new foundation. We had considerable TV media coverage of the exciting event. The money we raised has paid for the move, as well as the new basement, and we are in the process of finishing up with phase 1.
Now that the move has taken place, we feel it is appropriate to resume seeking sponsors and supporters of our project, to help us continue with phase 2. Our goal is to have the facility ready for the public, hopefully by September 2020. Our goal is to raise another $100,000 to complete the work that will be required.
This includes:
- Upgrading the electrical system to code
- Upgrading the plumbing
- Upgrading the flooring
- Installing a handicap elevator to allow access to the basement/main floor
- Repaint and repair the house, inside (insulation) and out (stucco)
- Establishing Heritage Floral, Victory and Shrub Memorial gardens
- Developing a 9-stall parking lot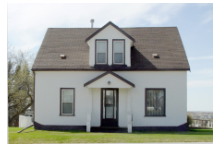 How Donations Work
Click any 'Donate Now' button and then decide your donation amount. You will then be forwarded to your payment processor of choice. Once your donation has been processed it will be sent to your charity of choice.
Need Some Help?