The International Festival of Song and Chamber Music Society has embarked on a journey: a Winter Journey, to be precise. This is a collaborative project connecting the performance of Franz Schubert's music with art, film, video, and the Alberta environment.
Schubert's Winterreise (Winter Journey) is a timeless trip, one filled with feelings found in the depths of the human heart: despair, dreams of the past, the premonition of death (including Schubert's own), hope; as well as the presence of nature - rustling leaves, storms, icicles, frozen tears. I hope that this universal music will reach out to people in a dark time, a time where we need to connect together despite the necessity of separation.
Schubert called this a "harrowing cycle of songs," and it is; especially so, during this time. This music calls out to us today, as we settle into an unknown winter, a cold prairie landscape (Alberta), a time of disease, upheaval and mystery, and a weirdness that Schubert's music portrays so well, even for today's world.
Our version of Die Winterreise is set in rural Alberta. I am grateful for the collaboration of one of Canada's finest baritones, Brett Polegato and Dutch-Canadian artist Eveline Kolijn on this project. It was originally my admiration for Eveline's art, plus a summer festival involving Brett that was cancelled due to COVID-19, that set the stage.
In Eveline's words: "The Winterreise poems and music are about wandering and a transformational journey; changing feelings on love; existential explorations and change of environments. My own artistic journey explores issues concerning the environment and biodiversity. I am looking forward to wander with Schubert in his magical, romantic and dark Winterreise. to visually transpose the song's German town surroundings into Alberta scenery using video, photography and my art."
Also involved in the project are two very promising young pianists, Cindy Zhang and Jack Olszewski, as well as Artistic Co-Directors Charles Foreman and Kathleen van Mourik. Recording engineer Trey Mills and videographer Stephen Lubig are our sound/video partners.
If you are interested in donating to the Winterreise project, we begin filming and recording on November 29th and we plan to release the film in the spring of 2021.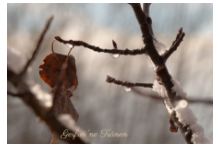 How Donations Work
Click any 'Donate Now' button and then decide your donation amount. You will then be forwarded to your payment processor of choice. Once your donation has been processed it will be sent to your charity of choice.
Need Some Help?