On the 14th of May 2022, I will be taking on The Dambusters Ride to help raise funds for the Royal Air Force Benevolent Fund, Bomber Command Museum, and the Legacy Place Society. Riders from all over the world will be taking part in the ride including the main ride in the U.K. I'll be doing the ride here in Alberta and riding 50 miles(80.5km), riding with and supporting me will be friends Daz Coen and James Kendal, the route will be from The Bomber Command Museum in Nanton AB, out to Chain Lakes, and back to the museum. At the museum, we are holding a 617 Squadron event where the Lancaster Bomber will be displayed, along with various replica bombs used by the Squadron, including the famous bouncing bomb that was used during the Dambuster raids. The Lancaster will run at 11 am and then 3 pm following my return to the museum having completed the ride.
With my RAF and the Calgary Police Service, I have a great empathy with members of both military and first responders who struggle due to PTSD, etc. The Legacy Place Society will be in attendance at the museum to further advertise what they do and will be accepting donations. I know that we are all going through some difficult times, but I hope you can dig deep into your pockets and donate to at least one of these great causes. If you can't, please share this to raise awareness of them at least.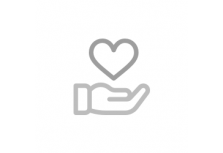 Fonctionnement des dons
Cliquez sur n'importe quel bouton « Donner maintenant », puis décidez du montant de votre don. Vous serez alors dirigé vers le traitement de paiement de votre choix. Une fois votre don traité, il sera envoyé à l'œuvre de bienfaisance de votre choix.
Besoin d'aide?