THE LRCCC consists of;
(1) The Kitchen Learning Center that works with agency clients(mental Health , brain injury, Bridges mentors - adults with fetal alcohol, Early Childhood, boys and girls club, Child Services, food bank clients etc) in offering programs free of charge to low or no income individuals/families to increase knowledge on food safety, safe food handling, nutrition, budgeting etc.
(2) The food recovery program works with volunteers in using donated perishables from stores to use in food prep for the kitchen learning center programs with clients.
(3) The Life Skills Learning Center works in partnership with regional agencies to fill those gaps identified by agencies to prevent individuals/families from continually falling through the cracks. Helping reconnect them to the community and increased quality of life.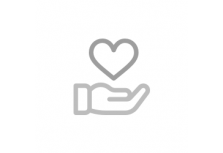 How Donations Work
Click any 'Donate Now' button and then decide your donation amount. You will then be forwarded to your payment processor of choice. Once your donation has been processed it will be sent to your charity of choice.
Need Some Help?