The goal of the Rwanda Seniors Life Centre (RSLC) is to provide food, shelter, clothing, and healthcare to Rwandan seniors that are survivors of the 1994 genocide. Traditionally in Rwandan culture, seniors are cared for by their families. Due to the genocide in 1994, many widowed seniors have been left without a family or support system to care for them. Our aim is to promote physical activity, reduce loneliness and address overall health concerns.
RSLC plans to build a senior centre with a capacity for up to 200 seniors. Seniors will be housed in shared rooms, with two residents per room to promote a more family like environment and to eliminate loneliness. RSLC's commitment is to give these vulnerable people a sense of a meaningful life and by placing two seniors per room, they will be able to ease the heaviness in their hearts by sharing their tragedies with others who have had a similar past and who will understand their struggles and challenges. They'll be able to comfort each other as they build a new family and community among themselves.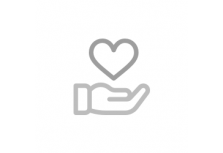 How Donations Work
Click any 'Donate Now' button and then decide your donation amount. You will then be forwarded to your payment processor of choice. Once your donation has been processed it will be sent to your charity of choice.
Need Some Help?