The holidays are joyous and wonderful time,but for many,it's also a time of great stress-financially,mentally and physically.Together we can help.
We have lots of gifts that will make a real difference in a Burundi family's life. Let's spread the cheer across oceans this year!
Gift of goat $50
Purchase a Bag of rice of beans $70
Sponsor a Burundian family for 1 year $120
Sponsor a child for 1year $250
Purchase a dairy cow for a Burundian Family $1000
Learn more about this project at https://www.wingsofhopeforafrica.ca/empowering-families-and-communities-...
Helping Today building Hope for Tomorrow
Thank you for your support to this noble cause.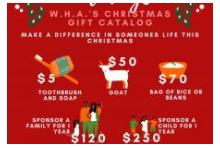 How Donations Work
Click any 'Donate Now' button and then decide your donation amount. You will then be forwarded to your payment processor of choice. Once your donation has been processed it will be sent to your charity of choice.
Need Some Help?